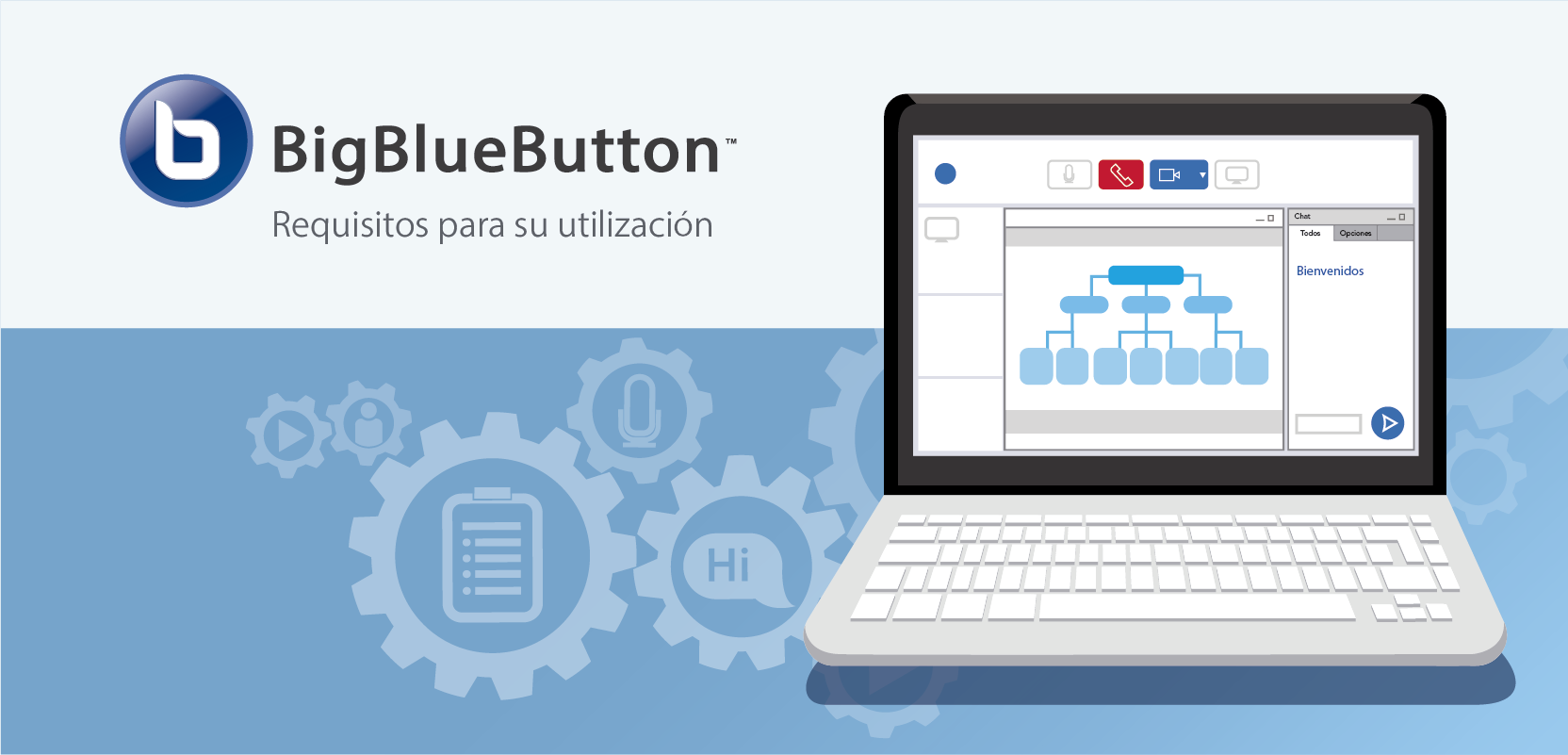 A continuación, les comentamos cuáles son los requerimientos técnicos mínimos que los usuarios deben tomar en cuenta al utilizar la herramienta de videoconferencia de escritorio BigBlueButton (BBB) que fue integrada en la plataforma de aprendizaje en línea Moodle de la UNED, de manera tal que puedan tener una mejor experiencia en cada una de sus sesiones virtuales.
Recomendaciones para usuarios en general:
Audio y Video
Cada usuario debe disponer de software o programa de sonido y video en su dispositivo.

Para evitar la interferencia es necesario contar con audífonos de diadema con micrófono o bien en caso de utilizar una computadora portátil (laptop), estos dispositivos normalmente ya se encuentran integrados.
Navegadores
Para sistema operativo Windows: Mozilla Firefox.

Para sistema operativo Mac: Mozilla Firefox u Opera.

Para dispositivos móviles con Android o iPhone (tablet o teléfonos celulares inteligentes): Puffin
Plugins
Flash Player (No aplica para usuarios de dispositivos móviles que utilizan navegador Puffin)

Java actualizado a la última versión disponible.
Conectividad del usuario
Conexión a Internet estable, con un mínimo de 2 Megas de Descarga. Se recomienda utilizar algún medidor de velocidad para corroborar la conexión (por ejemplo el de Kolbi http://medidor.kolbi.cr/)
Recomendaciones para profesores:
Número recomendado máximo de estudiantes por sesión: 15 pues facilita la interacción entre usuarios y facilita el control técnico de parte del moderador.

La utilización de cámaras por parte de todoslos participantes, en un mismo momento, puede ralentizar la transmisión del video y el audio según sea el tipo de conexión de cada usuario. Por lo que se recomienda que la cámara solo la utilice quien esté usando la palabra en el momento.
El moderador debe indicar las reglas de comunicación durante la sesión, de manera que se seda la palabra a cada participante según solicitud, normas de la netiqueta.

Tenga a mano los archivos o direcciones web que va utilizar durante la clase, para no tener inconvenientes en el proceso.
Para cualquier duda técnica adicional puede ponerse en contacto con el Programa de Aprendizaje en Línea a los contactos establecidos.
---
BigBlueButton and Requirements for its Use
Here are the basic technical requirements that users must take into account when using the BigBlueButton web videoconferencing tool (BBB) ​​that was integrated into Moodle, UNED´s online learning platform, in such a way that they can have a better experience in each of their virtual sessions.
Recommendations for general users:
Audio and video
Each user must have software or sound and video program on their device.

To avoid interference, it is necessary to have a headset with a microphone or, if using a laptop, these devices are usually already integrated.
Browsers
For Windows operating system: Mozilla Firefox.

For Mac operating system: Mozilla Firefox or Opera.

For mobile devices with Android or iPhone (tablet or smart cell phones): Puffin
Plugins
Flash Player (Not applicable for users of mobile devices using Puffin browser)

Java updated to the latest available version.
User connectivity
Stable Internet connection, with a minimum of 2 Megabytes of Download. It is recommended to use an internet speed test (for example, Kolbi http://medidor.kolbi.cr/)
Recommendations for professors:
Maximum recommended number of students per session: 15 because it facilitates interaction between users and facilitates technical control by the moderator.

The use of cameras by all participants, at the same time, can slow down the transmission of video and audio depending on the type of connection of each user. Therefore, it is recommended that the camera is only used by whoever has the floor at the moment.

The moderator must indicate the rules of communication during the session, so that the possibility of participating is given to each participant according to the request, rules of the netiquette.

Have at hand the files or web addresses that will be used during the class, so as not to have problems in the process.